Iran's Judiciary criticizes EU for removing MKO from black list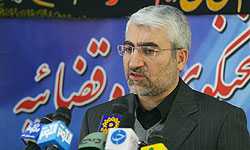 TEHRAN (FNA)- Iran's Judiciary Spokesman Ali-Reza Jamshidi criticized the European Union on Tuesday for removing the terrorist Mujahedin Khalq Organization (MKO) from its black list.
Under heavy pressures exerted by the Zionist lobby, the EU politicians decided in their latest meeting on Monday, to exclude the outlawed group from Europe's list of terrorist organizations.
"If the EU does not extradite the MKO members to Iran upon international laws, it is, at least, expected to punish them," Jamshidi told domestic and foreign reporters at his weekly press conference, the Islamic republic news agency reported.
Criticizing the EU move, the spokesman added, "The EU decided to remove MKO from its list of terrorist groups while the grouplet has committed countless crimes and terrorist acts against the Iranian people and officials and thousands of cases were filed against them by families of the victims."
He said that Iran was following up its efforts through Interpol to take back to Iran over 100 MKO members who were under prosecution for their crimes.
Jamshidi stressed that the MKO removal was an example of West's double standard policy in dealing with terrorists.
"By removing the MKO, the EU divided terrorists into the bad and good terrorists," Jamshidi said, adding ironically, "based on their division, al-Qaeda is now considered the bad terrorist, while the MKO is the good one!"
The spokesman stressed that the EU move would put in danger the global peace and security and is against the interest of international community.
You can follow any responses to this entry through the
RSS 2.0
feed.
Responses are currently closed, but you can
trackback
from your own site.
//php comments_template(); ?>