Caught Between Pristina and Belgrade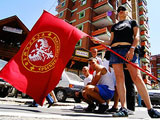 As Kosovo goes it alone for the first time in local elections, the results are less significant than the voting process itself, as some Kosovo Serbs defy Belgrade's boycott demand in a move that may cause a major rift between Serb communities in Kosovo, Igor Jovanovic and Anes Alic write for ISN Security Watch.
Kosovo's first self-organized elections since gaining independence from Serbia were marked, significantly, by a partial end to a voting boycott by Kosovo Serbs, though Serbian officials believe this could lead to discordant divisions among Serbs there.
The election outcome itself was perhaps less significant, and there were few surprises in terms of party results.
Prime Minister Hashim Thaci's Democratic Party of Kosovo came out on top, while Ramush Haradinaj's Alliance for the Future of Kosovo also fared well, and will earn itself mayors in four municipalities as well as a shot at mayoral posts in eight additional municipalities after a second round of voting. (Two years ago, the party of former prime minister Haradinaj had only mayoral posts.) The Democratic Alliance of Kosovo, led by President Fatmir Sejdiu also fared well, winning the mayoral post for the capital Pristina.
A lot to prove
The elections, the first fully controlled by Kosovo's authorities since it unilaterally declared independence from Serbia in February 2008, were seen as a crucial test for Kosovo, which was hoping to prove to the international community that it could organize and hold free and fair elections without assistance. (Since 1999, all elections in Kosovo have been organized by international missions.)
It was widely understood that if the elections passed smoothly, it would have a positive impact on the stalled independence recognition process and Kosovo's future integration into the EU and NATO. It was particularly crucial that the elections pass without incident.
The European Network of Election Monitoring Organization (ENEMO), which deployed more than 100 observers and were present at 7 percent of the polling stations, praised the organization of the elections, saying that they had met international standards, with scattered exceptions. They noted some issues such as a lack of guidance and in some cases a lack of voting secrecy.
Still, voter turnout was lower than many hoped, with less than half the country's 1.5 million eligible voters casting ballots for mayors and municipal assembly members in 38 municipalities.
The Serb vote
As in previous elections, the participation of Kosovo Serbs was a major issue. (Some 100,000 Serbs are now estimated to live in Kosovo, mostly in enclaves.) The election was also held in three new municipalities with majority Serbs population.
Ahead of the elections, the Serbian parliament committee for Kosovo and Metohija called on all Serbs citizens in Kosovo to boycott the poll, which they said had been "organized by secessionists and separatists." The committee said in a statement that the Serbian president, government and minister for Kosovo and Metohija had stressed multiple times that "the conditions are not right for Serbs to vote in the so-called elections." The Serbian Orthodox Church also chimed in with its usual call for Serb non-participation.
The Serbian government organized its own elections in Kosovo municipalities in May, and the event was marked by high (Serb) voter turnout, resulting in the formation of local governments recognized and financed by Belgrade. The Kosovo government and international community consider those institutions illegitimate, but have so far refrained by banning them.
In the end, around 3 percent of Kosovo Serbs ended up voting this time around. However, the unexpectedly high turnout in certain Serb enclaves could indicate cracks in the relationship between Kosovo Serbs and Belgrade, and could cause a rift within the Serbian government.
Serb 'treachery'
Analysts stress the possibility of divisions within the Serb community in Kosovo, since organizations from the north are calling on the Serbian government to sanction all Serbs who ran in elections organized by the Pristina authorities. In Kosovo's Serb-dominated north, some branded the Serb participation in the vote just short of treachery.
While Serbian Minister for Kosovo Goran Bogdanovic called the election a "failure" and said that the vast majority of the Kosovo Serbs had followed Belgrade's recommendations, his deputy, Oliver Ivanovic said that the fact that Serbs participated in the Kosovo election was the real failure, and added that the policy on Kosovo would have to change.
"Since the local elections organized by interim Kosovo institutions have failed, it is now clear to everyone that we have to work together and discuss legitimate decentralization based on the true needs of the Serb community," Bogdanovic told the Belgrade media.
A potential cause for Belgrade is Serb turnout in the newly formed municipalities of Gracanica, Ranilug and Klokot, which are surrounded by Kosovo Albanian settlements, unlike northern Kosovo, which is physically connected to Serbia and in which the Serbs make up the vast majority of the population.
In the north, the Serb turnout was minimal, as illustrated by the example of 0.75 percent of voters in the Zvecan municipality. On the other hand, around 30 percent of the Serbs voted in the each of the new municipalities.
According to the most influential Serb organizations in northern Kosovo, that could lead to a serious rift within the Serb community.
Even though Serbs won the vote in those three municipalities, Belgrade says it will not recognize their legitimacy as they failed to heed the call to boycott. In these municipalities, local officials elected by Serbia in May remain in power, and with the results of the new elections it will mean that there are two parallel Serbian authorities.
Belgrade also said that 90 percent of Serbs from Kosovo are being financed from the Serbian budget and that those entering Kosovo bodies of power would lose that support.
The Serb National Council of Northern Kosovo has urged the Serbian government to find a way to punish all those who ran in the election and to dismiss them if they work in schools or health care institutions funded by Belgrade.
"Those took part in the election are openly working on separating Kosovo from Serbia," Council President Nebojsa Jovic told Belgrade media.
Ethnic vs state interests
However, Rada Trajkovic, one of the Serb representatives in Gracanica, believes that Belgrade and the Serbs from northern Kosovo do not fully understand the difficult position in which their compatriots in the central Kosovo enclaves find themselves.
She told ISN Security Watch that the Serbs in Gracanica had decided to vote not in order to integrate into Kosovo society, but to protect themselves from Pristina's repression, terror and discrimination.
"It is beyond comprehension that someone in Belgrade has a problem with the Serbs building strong centers and strong local governments in Kosovo. It is bad that we have gotten into a conflict over participation in the election, instead of finding ways to join forces in combating the problems the Kosovo Serbs face every day," she said.
Head of the Forum for Ethnic Relations NGO Dusan Janjic told ISN Security Watch that the Serbian government had led a very poor policy for the Kosovo local election because it had been unable to separate ethnic and state interests.
"The ethnic interest was to have as many Serbs as possible vote and win power in as many municipalities as possible, so that they can continue to live in those municipalities. After all, that is also in the interest of the state, because if there are no Serbs in Kosovo, how can Belgrade claim that Kosovo is still part of Serbia," Janjic said.
Pristina analyst Behlul Beqaj told ISN Security Watch that the Serb turnout "was lower than expected, especially given the daily calls from Pristina to vote."
According to him, local governments will be formed in certain Serb regions despite the low turnout. "The question that remains is how much legitimacy those administrations can have among the Serb citizens of Kosovo," Beqaj said.
Source: isn.ethz.ch
You can follow any responses to this entry through the
RSS 2.0
feed.
Responses are currently closed, but you can
trackback
from your own site.
//php comments_template(); ?>