French jets to start reconnaissance flights over Iraq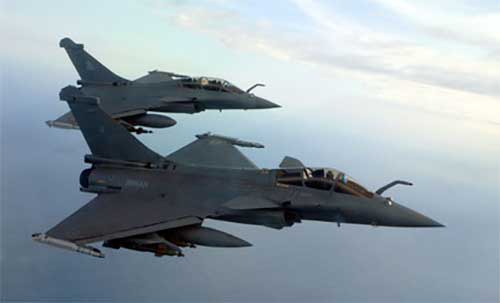 French aircraft will begin reconnaissance flights over Iraq on Monday, Foreign Minister Laurent Fabius said before a conference bringing together some 30 countries to discuss how to fight against Islamic State of Iraq and Syria (ISIS) militants.
"We told the Iraqis we were available and asked them for authorisation [to fly over Iraq]," Fabius told Europe 1 radio, confirming that the first flights from a French base in Abu Dhabi would begin on Monday.
Foreign ministers from the main European states, the five permanent members of the UN Security Council, Iraq's neighbours and Gulf Arab states Qatar, Saudi Arabia, Kuwait and the UAE, are in Paris to discuss broad political, security and humanitarian aspects of tackling ISIS.
"They must intervene quickly because they are late," Iraq President Fouad Masoum told Europe 1 referring to military support in Iraq. "If this intervention and support to Iraq is late, that means that ISIS could occupy more territory and threat it poses will be even bigger."
You can follow any responses to this entry through the
RSS 2.0
feed.
Both comments and pings are currently closed.
//php comments_template(); ?>