US set to provide 10 Apache helicopters to Egypt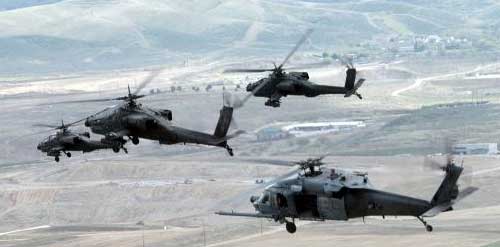 The United States is set to deliver 10 Apache helicopters to Egypt to support "counterterrorism efforts", confirmed US Defence Secretary Chuck Hagel in a phone call to Egyptian Minister of Defence Sedki Sobhi.
Hagel contacted his Egyptian counterpart by telephone on Saturday to confirm the plans to deliver the military equipment, according to Pentagon Press Secretary John Kirby.
Kirby gave no specific date for the delivery of the 10 AH-64 helicopters to assist Egypt's fight against terror. Egyptian security forces have been embroiled in an ongoing operation against militancy in the Sinai Peninsula.
Sobhi and Hagel also discussed regional security issues including the US-led coalition to "destroy" extremist group Islamic State of Iraq and the Sham (ISIS).
Hagel also conveyed his appreciation for Egypt's role in brokering a ceasefire between Israel and the Palestinian factions at the end of August.
Kirby added: "The two leaders reaffirmed their commitment to a strong bilateral relationship and agreed to continue to engage regularly".
You can follow any responses to this entry through the
RSS 2.0
feed.
Both comments and pings are currently closed.
//php comments_template(); ?>