EU does not recognize Dontetsk elections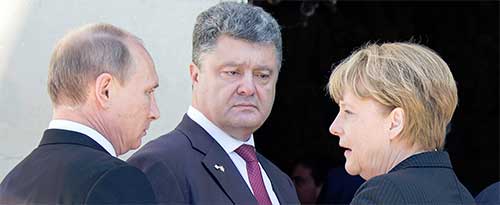 German Chancellor Angela Merkel told Russian President Vladimir Putin on the phone that Sunday's planned elections in eastern Ukraine were illegitimate and would not be recognized by European leaders, a Berlin government spokesman said on Friday.
Merkel and Putin held a joint telephone conversation with French President Francois Hollande and Ukrainian President Petro Poroshenko, Merkel's spokesman Georg Streiter said at a government news conference.
He said in the call there were diverging opinions on Sunday's "so-called elections" in the self-proclaimed people's republics of Donetsk and Luhansk.
"Merkel and Hollande underlined that there can only be a ballot in line with Ukrainian law," he said, adding that the vote would violate an agreement endorsed by Russia and further complicate efforts to end the crisis in eastern Ukraine.
"The German government will not recognize these illegitimate elections," Merkel's spokesman said. European leaders were united on this issue and had agreed on this at a summit last week in Brussels.
Over 3,700 people have been killed in fighting in eastern Ukraine, where pro-Moscow rebels seek union with Russia. A ceasefire has been in force since September but there have been isolated flareups of fighting.
A 12-point protocol, issued after talks in early September in the Belarussian capital of Minsk involving Russia, Ukraine, the Organization for Security and Cooperation in Europe and separatist leaders, foresees the holding of "early local elections" in the east in accordance with Ukrainian legislation.
You can follow any responses to this entry through the
RSS 2.0
feed.
Both comments and pings are currently closed.
//php comments_template(); ?>