Turkey worried of possible new wave of Syrian refugees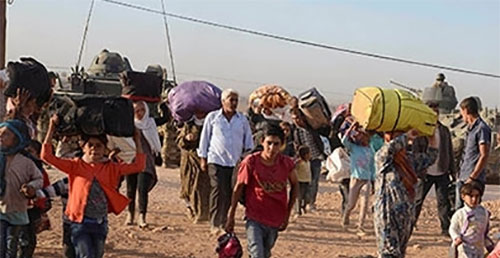 Turkish Foreign Minister Mevlüt Çavuşoğlu has warned of a new refugee influx Turkey may face if Syrian President Bashar al-Assad's regime or Islamic State in Iraq and the Levant (ISIL) militants advance on Aleppo.
Addressing a joint press meeting with Finnish Foreign Minister Erkki Tuomioja on Tuesday, Çavuşoğlu said the Free Syrian Army (FSA) is fighting against Assad's forces as well as ISIL, both of which are killing Syrians brutally.
Çavuşoğlu noted that the regime is filling the power vacuum left by ISIL after the US-led coalition hit ISIL targets and said there isn't a big difference between the regime and ISIL as both do not hesitate to use all available weapons.
"Civilians are escaping from the areas where the two [Assad's forces and ISIL militants] and other terrorist organizations are advancing. An advance on Aleppo would cause 2-3 million Syrian refugees to escape to Turkey," he said.
Turkey has been pushing the international coalition to set up a no-fly zone and a safe zone inside Syria as it already hosts almost 2 million Syrian refugees.
Turkey has prioritized the removal of Assad's regime rather than focusing on the immediate threat of ISIL. Turkish officials view the Assad regime as the main factor in the creation of an environment that has enabled the emergence of radical groups such as ISIL.
The US and other Western countries have made it clear that removing the Assad regime from power in Syria is not a priority.
You can follow any responses to this entry through the
RSS 2.0
feed.
Both comments and pings are currently closed.
//php comments_template(); ?>