Modi to discuss Rafale deal during France visit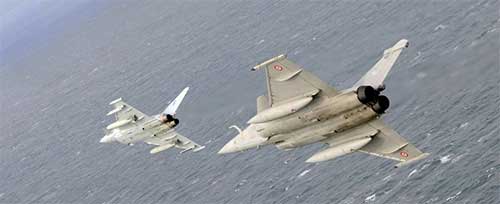 Indian Prime Minister Narendra Modi begins an eight-day visit to France, Germany and Canada on Thursday in a bid to further his agenda to boost Indian manufacturing, ensure his country's energy security and increase foreign investment.
The focus of the prime minister's three days in France will be a fighter aircraft deal and a nuclear power project that have stalled for more than a year.
India is insisting that France stick to the original price quoted for the supply of 126 Rafale fighter aircraft three years ago, when it won the contract. At the time the aircraft were priced at US$12 billion (Dh44bn); neither government has revealed the new price demanded by France.
Another hitch has been the contract requirement that France supply 18 fully built Rafale jets and help build the other 108 at the state-owned Hindustan Aeronautics Limited (HAL) factory in Bengaluru.
The French manufacturer, Dassault Aviation, has raised questions about HAL's ability to manually fabricate the aircraft's carbon-fibre skin. In its own factories, Dassault uses a quicker, automated process.
According to media reports during the French defence minister's visit to India in late February, Dassault says training Indian engineers in this technology and overseeing their work would be more time-consuming and expensive.
France has been cautious about the prospects of resolving these issues during Mr Modi's trip.
"We are working on it," Mr Hollande said on Tuesday. "There will be no announcement on the Rafale sales before the visit of Prime Minister Modi in France and I do not want the Indian premier's visit to be put in the context of a contract."
You can follow any responses to this entry through the
RSS 2.0
feed.
Both comments and pings are currently closed.
//php comments_template(); ?>