Egyptian security forces kill leading IS member in Cairo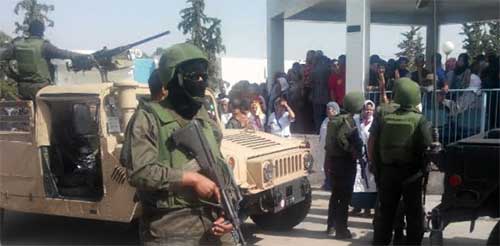 Egyptian security forces killed on Monday a leading Islamic State (IS) militant in a gunfight in Cairo, according to the Interior Ministry.
Ashraf Ali el-Gharabli is a leading member of IS-affiliated Ansar Bayt al-Maqdis group, which carried out a series of attacks in the North African country, the ministry said in a statement.
He was shot dead in a fire exchange when police tried to arrest him near his hideout in el-Marg neighborhood, in eastern Cairo, where he was planning the group's attacks, according to the statement.
The Interior Ministry said that Gharabli was responsible for several attacks on police and army personnel as well as vital institutions.
Gharabli is the prime suspect of several terrorist acts, including the bombing of the Italian consulate in Cairo last July, the assassination attempt of former interior minister Mohamed Ibrahim and the killing of high-ranking security officials, the statement said.
Egypt has been witnessing anti-government attacks that have left hundreds of police and army personnel dead or injured since the military ousted Islamist president Mohammed Morsi in July 2013 in response to nationwide protests against his one-year rule.
Most of the anti-state attacks were claimed by Ansar Bayt al-Maqdis, which pledged allegiance to the IS, and named itself "Sinai State."
You can follow any responses to this entry through the
RSS 2.0
feed.
Both comments and pings are currently closed.
//php comments_template(); ?>