Egypt welcomes US-Russia agreement on Syria ceasefire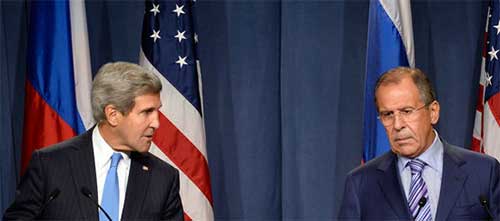 Egypt and the Arab League (AL) welcomed on Saturday the ceasefire recently reached in conflict-stricken Syria after mediation efforts of the United States and Russia.
The Egyptian Foreign Ministry hailed the truce that was reached Friday evening and will take effect on Sept. 12, the first day of the Muslim Feast of Sacrifice, calling on all Syrian parties to maintain complete ceasefire "while continuing to target terrorist elements."
The ministry's spokesman Ahmed Abu Zeid urged Syrian conflicting parties "to put an end to the humanitarian suffering of the Syrian people due to continuous violence and fighting and to pave the way for political talks."
The truce was announced earlier on Saturday by U.S. Secretary of State John Kerry who said he had reached the deal with his Russian counterpart Sergei Lavrov that seeks ceasefire all over Syria.
The announcement came after intensive U.S.-Russian talks in Geneva in a bid to end the five-year-long fighting in the Arab country.
Meanwhile, AL Secretary-General Ahmed Aboul-Gheit also welcomed the truce and hoped all measures could be taken "to relieve the suffering of the Syrian civilians and get the Syrian crisis close to a political settlement that meets the aspirations of the Syrian people."
You can follow any responses to this entry through the
RSS 2.0
feed.
Both comments and pings are currently closed.
//php comments_template(); ?>