United States warns Russia on Ukraine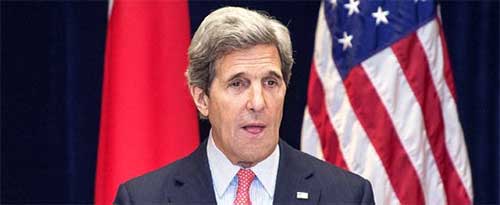 The U.S. warned Russia Wednesday it would be a "grave mistake" to intervene militarily in Ukraine, after President Vladimir Putin put 150,000 combat troops on high alert for war games near the turmoil-ridden country.
"For a country that has spoken out so frequently … against foreign intervention in Libya, in Syria and elsewhere, it would be important for them to heed those warnings as they think about options in the sovereign nation of Ukraine and I don't think there should be any doubt whatsoever that any kind of military intervention that would violate the sovereign territorial integrity of Ukraine would be a huge – a grave mistake," U.S. Secretary of State John Kerry told a small group of reporters.
The U.S. is also mulling providing a $1 billion loan guarantee to help Ukraine stave off economic collapse, Kerry added.
"We are formulating initially a $1 billion loan guarantee with some other pieces," Kerry said, adding the European Union was also looking at offering $1.5 billion in loan guarantees to the former Soviet satellite.
You can follow any responses to this entry through the
RSS 2.0
feed.
Both comments and pings are currently closed.
//php comments_template(); ?>