Pakistan backs Saudi Arabia over Yemen strikes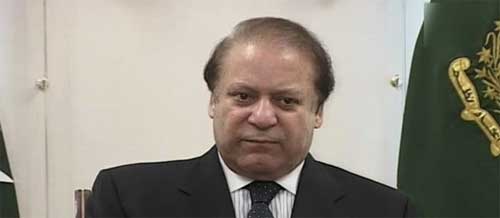 Pakistani Prime Minister Nawaz Sharif has told Saudi King Salman bin Abdul Aziz that he will soon send a high-level delegation to Riyadh to discuss cooperation for the Saudi-led strikes on Yemen, a top diplomat said.
Foreign Secretary Aizaz Chaudhry told a press conference late on Saturday that the delegation could depart within 24 to 48 hours.
"The prime minister told the Saudi king that the security of Saudi Arabia is very important for Pakistan and any threat to Saudi Arabia will be a matter of serious concern for us," he said.
"Our leadership is in contact with the Saudi leaders and has told them Pakistan will send a delegation to assess the situation and will later make decisions," Chaudhry said.
The delegation was scheduled to leave on Friday. Chaudhry denied reports that Pakistan has joined the Saudi-led coalition in strikes against the Houthi rebels in Yemen.
"All these reports are false and based on assumptions," the foreign secretary said when commenting on Saudi state news agency's report that Islamabad has agreed to join the Saudi-led coalition.
Defence Minister Khawaja Asif will lead the Pakistani delegation that will also comprise the country's security advisor and military officials.
"Pakistan has assured the Saudi leaders it will defend the kingdom if its sovereignty and territorial integrity is threatened," the top diplomat said.
You can follow any responses to this entry through the
RSS 2.0
feed.
Both comments and pings are currently closed.
//php comments_template(); ?>