US paratroopers to train some Ukrainian soldiers in April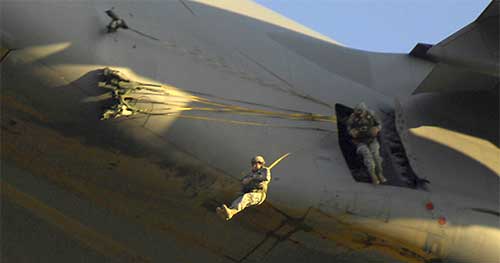 Around 900 Ukrainian servicemen will be trained by American paratroopers in a series of training sessions that will kick off on April 20, Interior Minister Arsen Avakov announced on his Facebook page on March 29. The training will take place at Yavoriv military base in Lviv Oblast in western Ukraine.
"The agreement on joint exercises was achieved during the negotiations of President (Petro) Poroshenko and Vice President (Joe) Biden,"Avakov said.
He said the Ukrainian troops will be trained by the 173rd Airborne brigade, a military unit that is part of U.S. European troops and is based in Italy. Also known as Sky Soldiers, the brigade has taken part in many operations in Afghanistan and Iraq in recent years, according to its official website.
Avakovsaid that the Cabinet and the National Guard have "finished all preparatory work" for the three waves of trainings each lasting eight weeks. He said some 300 Ukrainian soldiers will be taking partin each of the waves, and they will be followed by joint war games.
He said that the Azov, Kulchytsky, Jaguar, and Omega Battalions will be taking part in these exercises, as well as "other units from Kyiv, Kharkiv, Zaporizhya, Odesa, Lviv, Ivano-Frankivsk and Vinnytsia."
You can follow any responses to this entry through the
RSS 2.0
feed.
Both comments and pings are currently closed.
//php comments_template(); ?>