US troops to focus on retaking control of Ramadi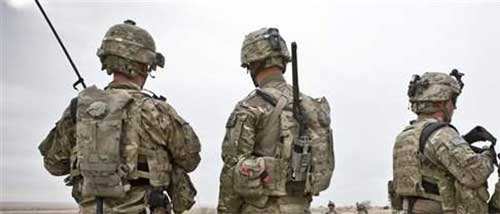 US President Barack Obama is sending 450 additional US troops to help Iraqi forces seize back control of the western city of Ramadi from the Islamic State of Iraq and the Levant (ISIL) jihadists.
Of the 450 troops heading to Anbar province within six to eight weeks, less than 100 will be advisers who will assist Iraqi commanders for an eventual counter-attack in Ramadi, officials said. The remainder of the contingent will handle logistics and provide security for fellow troops.
The American advisers will be working with various Iraqi units including the army's 8th Division, elements of which retreated in defeat when Ramadi fell to the ISIL group last month.
The troops will "assist with planning, integration and support of Iraqi Security Forces and tribal forces as they fight to retake the Ramadi and Fallujah corridor," the Pentagon said in a statement.
The new advisory team will deploy to Taqaddum air base, which is located only 22 miles (37 kilometers) from Ramadi.
Until now, US troops in Anbar province have operated from al-Asad air base, where several hundred US Marines are stationed. Inserting the American advisers so close to Ramadi will help speed up the pace of coalition air strikes against the ISIL group, senior officials told reporters.
You can follow any responses to this entry through the
RSS 2.0
feed.
Both comments and pings are currently closed.
//php comments_template(); ?>