Heavy clashes continue in eastern Ukraine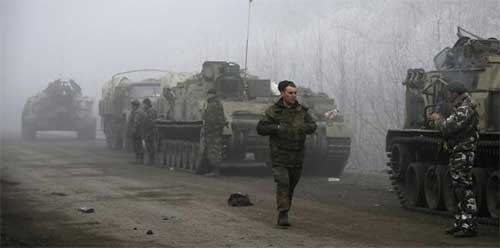 Heavy fighting in eastern Ukraine between government forces and pro-Russian separatists has left at least 20 people dead or injured, including civilians.
A senior officer of the government forces said the fighting on Friday and Saturday near Donetsk, a major city in eastern Ukraine, killed 6 soldiers and injured 14.
Separatists said the government shelling of their stronghold Donetsk and nearby towns on Saturday injured 4 civilians.
They said government shelling on Wednesday and Thursday killed 4 civilians and wounded 9 people.
In eastern Ukraine, sporadic fighting flared up despite a February ceasefire.
On June 3rd, at least 20 soldiers and civilians were killed when two sides exchanged heavy shelling.
The United States and Britain are training government soldiers while Russia is said to be providing assistance to separatists.
You can follow any responses to this entry through the
RSS 2.0
feed.
Both comments and pings are currently closed.
//php comments_template(); ?>