Egypt buys two Mistral ships from France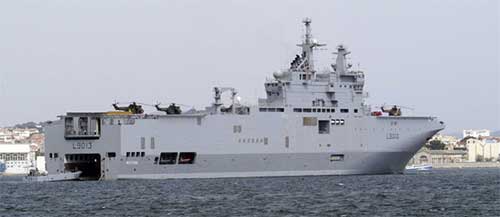 French President Francois Hollande said Wednesday Egypt had agreed to buy two Mistral warships which France built for Russia before scrapping the sale over the Ukraine crisis.
The deal is the second big military contract this year between France and Egypt, which Hollande said he increasingly views as a strategic partner.
"It was my preferred buyer because we already have military cooperation with Egypt," Hollande said of the deal he struck with President Abdel Fattah al-Sisi.
"Egypt plays an important role in the Middle East and wants to move towards a democratic transition, which is not easy, and we should support their efforts."
French government sources said Egypt would pay 950 million euros ($1 billion) for the warships, with "significant" financing from Saudi Arabia.
The two warships, which can each carry 16 helicopters, four landing craft and 13 tanks, were ordered by Russia in 2011 in a 1.2-billion-euro deal.
France found itself in an awkward situation as the delivery date neared in 2014, with ties between Russia and the West plunging to Cold War lows over Moscow's annexation of Crimea and support for separatists in eastern Ukraine.
Paris faced the wrath of its allies around the world if it were to deliver the technology to Russia, and decided to cancel the delivery.
It was an expensive decision for France, which has had to foot the bill of over one billion euros for the upkeep of the ships and the cost of training 400 Russian sailors to crew them.
You can follow any responses to this entry through the
RSS 2.0
feed.
Both comments and pings are currently closed.
//php comments_template(); ?>