Nigeria: Army delivers more than 300 women and children from the hands of Boko Haram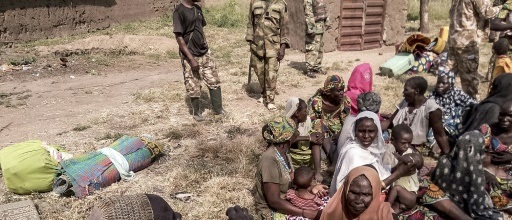 More than 300 women and children held captive by Boko Haram were released during a military operation against a group of Islamist hideouts in north-eastern Nigeria, the Nigerian army announced Wednesday.
"An army unit has rescued 338 people held captive by the terrorists", including 192 children and 138 women, during an operation conducted Tuesday, the military said.
This operation was "suspected terrorist camps Boko Haram in the villages of Bulajilin and Manawashe" bordering the forest Sambisa a hideout of Islamist rebels located in Borno State.
The army also claimed to have killed 30 suspected members of Boko Haram and recovered arms and ammunition.
Photos published by the army after the operation show a majority of women, some with babies in their arms. The released hostages were taken to an IDP camp in Mubi, Adamawa in the neighboring state, the army said.
According to Amnesty International, Boko Haram has abducted at least 2,000 women and girls in Nigeria since January 2014. The Boko Haram kidnapping of more than 200 high school students to Chibok in April 2014 had sparked international outrage, later drawing attention to the plight women and children abducted in Nigeria by Islamist insurgents. It was unclear whether Chibok of high school girls were part of the group released Tuesday.
In a statement, the army also claimed to have ambushed and killed four insurgents who were heading towards the city of Gubula in Adamawa State for, says the army will carry out suicide bombings. Weapons, ammunition, mortar shells and money were seized.
The Air Force said Tuesday throwing strikes on vehicles and fuel depots the Islamist group "in a renewed effort to further weaken" its resources. According to the head of the air force sadistic Abubakar, these strikes "pave the way for the final assault" by ground troops.
The army regularly reports success in its fight against the insurgency. In late September, she claimed to have rescued 241 women and children during operations against insurgents in the north-east.
You can follow any responses to this entry through the
RSS 2.0
feed.
Both comments and pings are currently closed.
//php comments_template(); ?>