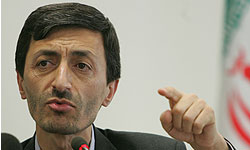 TEHRAN (FNA)- Iran said the advancements it has made in the past years have enabled it to enter dam construction contracts with other countries. Iranian specialists now provide consultation services for the design and construction of various sizes of dams, Energy Minister Parviz Fattah told reporters on Friday.

According to the Iranian official, 95 dams are currently under construction inside Iran and such countries as Sri Lanka, Syria, and Tajikistan as well as African states have entered either dam construction or consultation projects with Tehran.
One of Iran's most important international projects will see the construction of a $200-million hydroelectric dam in Nicaragua, press tv said.
While the construction of the Nicaraguan dam is set to begin in 2011, the project has caused serious concern in the United States as it signifies the increase of Iran's foothold in Latin American markets.
The Iranian Energy Ministry is reportedly assessing whether to begin nearly 170 additional dam construction projects.