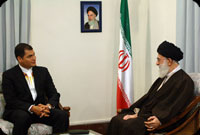 The Leader of the Islamic Revolution says Ecuadorian President Rafael Correa has great potentials to defend the rights of his nation.
In a Sunday meeting with the visiting president, Ayatollah Seyyed Ali Khamenei said the 'energetic' Correa could pave the way for the progress of Ecuador.
The development of Latin American nations requires their leaders to stand up for their rights and oppose the imperialistic policies of the United States in the region, Ayatollah Khamenei added.
Heading a high-ranking delegation, President Correa is on an official five-day visit to Iran. He is the first Ecuadorian president to visit the Islamic Republic.
President Correa said in an earlier press conference that he was amazed by the progress Iran had made despite the imposition of Western sanctions on the country.
The Ecuadorian and Iranian presidents have agreed to expand relations by establishing embassies in Tehran and Quito.
MD/HGH