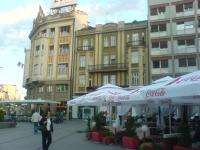 Skopje – As part of the celebration marking 15 years since Macedonia established diplomatic relations with 13 European countries, the embassies of several nations are opening their doors to visitors.
This will be a rare occasion for the Macedonians to catch a glimpse of the Norwegian, Swedish and the United Kingdom's embassies' work as the staff will familiarise them with the activities of the diplomatic offices.
The celebration organised by the government and the embassies is dubbed "15 Years of European Friendship and Partnership."
In December 1993, Macedonia established diplomatic relations with Germany, Denmark, Italy, Great Britain, France, the Netherlands, Norway, Sweden, Bulgaria, Albania, Finland, Iceland and Poland.
Today Macedonia is in its third year in a row with the status of European Union candidate and its citizens are still required to apply for Schengen visas in order to visit these countries.
The Government hopes that positive EU signals will result in the full scrapping of visa requirements for Macedonians in 2009.
Macedonian Foreign Minister Antonio Milososki, Norwegian Ambassador Karl Wibye and French Ambassador Bernard Valero, will address attendants of the central event which will be held in the Army's Club in Skopje.
The evening is reserved for the concert of the Macedonian Philharmonic Orchestra performing tunes and melodies distinctive for each of the 13 countries.