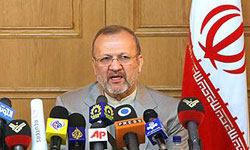 TEHRAN (FNA)- Iranian Foreign Minister Manouchehr Mottaki said he did not attend the two-day conference on Afghanistan in Paris due to the undiplomatic remarks made by French President Nicolas Sarkozy about Iran.
Paris did not show the courtesy of a host, Mottaki stated during a joint press conference with Armenian Minister of Energy and Natural Resources Armen Movsisyan in Tehran on Monday.
Commenting on the critical situation in the Gaza Strip, Mottaki said, "We give serious warning about the conditions in Gaza… and believe that the international community and the United Nations should acknowledge responsibility… In fact, the Zionist regime should not feel that governments and international organizations do not pay attention to its crimes."
The Islamic Republic of Iran has negotiated with other Islamic countries to provide help to the oppressed Palestinian nation, he added.