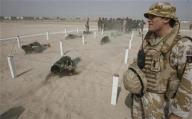 BAGHDAD (Reuters) – Iraq's parliament approved a measure on Tuesday that clears the way for troops from Britain, Australia and a handful of other nations to remain in Iraq after a U.N. mandate expires at year's end, a senior lawmaker said.
"We authorize the government to take all necessary steps regarding foreign forces other than U.S. forces," said deputy parliamentary speaker Khalid al-Attiya.
He said the measure approved would allow the troops to stay in Iraq through the end of July 2009.
A vote on the measure was delayed for several days by squabbling in the parliament, whose speaker resigned just before the vote on the troop measure after angering some politicians with his brash style and insults in a session last week.
Details of the measure were not immediately available, but Attiya said it empowered the government of Prime Minister Nuri al-Maliki to permit the troops to stay.
Forces from Britain, Australia, El Salvador, Romania and Estonia and NATO have been awaiting a new arrangement to legalize their presence in Iraq after the U.N. mandate expires in little over a week.
On Saturday, parliament on technical grounds rejected a draft law that would have allowed them to do combat operations through May next year and to stay in Iraq through July.
Deputies argued that, rather than legislation, a treaty or agreement was needed, similar in format to a U.S.-Iraqi deal that allows the 140,000 troops in Iraq to remain until 2011.
The vote was then sidelined by the political storm that resulted in the resignation of Mashhadani, a Sunni Arab physician who emerged out of nowhere to lead the young Iraqi parliament in 2006.
Shi'ite and Kurd lawmakers had demanded Mashhadani's resignation. It remains to be seen who will replace Mashhadani, a member of Iraq's largest Sunni bloc.
Officials from Britain, the main U.S. ally in the invasion of Iraq in 2003, said they were making contingency plans in case lawmakers were unable to pass such a proposal.
Britain's 4,100 troops are posted mostly around the southern oil port city of Basra which, like most of Iraq, has become a much safer place in the past year as violent attacks drop sharply.
British Prime Minister Gordon Brown confirmed last week that his country would start withdrawing its troops from Iraq by the end of May.