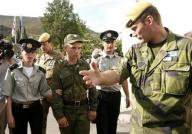 MOSCOW (Reuters) – Monitors from the Organisation for Security and Cooperation in Europe can only patrol in Georgia next year if their mandate is changed to take account of Moscow's concerns, Russia's foreign minister said on Tuesday.
The OSCE said on Monday it would start shutting down its mission in Georgia on January 1 after Russia refused to extend the existing mandate because of a dispute over the status of South Ossetia, a Moscow-backed separatist region of Georgia.
"The mandate cannot function, either in the practical or the legal sense," Russian Foreign Minister Sergei Lavrov said.
Western states say OSCE monitors patrolling Georgia's conflict zone with South Ossetia can provide early warning of any new flare-up in hostilities, and investigate allegations of rights abuses against ethnic Georgians.
Lavrov told a news conference that Russia had submitted a draft for a new mandate to the OSCE, Europe's main democracy and human rights watchdog, and it was now up to the organization's other members to approve it. "It is not down to us," he said.
The OSCE monitors' mandate expires on December 31. Russia's proposals for a new mandate have stalled because Moscow says it must acknowledge that South Ossetia is an independent state — a status that only Russia and Nicaragua have recognized.
Britain, one of the most vocal European critics of Russia's actions in Georgia, said it would hold Moscow in particular responsible for security in the conflict zone after it blocked the work of the OSCE monitors.
"Russia has isolated itself on this issue," British Foreign Minister David Miliband said in a statement.
LACK OF ACCESS
Russia launched a counter-attack after Tbilisi's forces tried in August to retake South Ossetia, a strip of land in the foothills of the Caucasus mountains that threw off Georgian rule in the early 1990s.
Moscow said it was compelled to act to protect civilians in South Ossetia from Georgian aggression. Western states said the Russian response was disproportionate.
A small force of unarmed military observers from the OSCE and a larger European Union observer contingent were deployed to Georgia to monitor observance of a ceasefire agreement.
Neither group has been allowed into South Ossetia — a lack of access which Western diplomats say leaves the outside world in the dark about what is happening inside the region.
Georgian forces are in an armed standoff on the de facto border with South Ossetian and Russian forces, and analysts say a new flare-up of fighting is a real possibility.
Human rights groups say South Ossetian militias, with the complicity of Russian forces, have systematically destroyed ethnic Georgian villages and harassing the few ethnic Georgians who remain. Moscow and separatist authorities deny that.
The OSCE has had a monitoring mission in Georgia since 1992, when it was set up after fighting in South Ossetia.
Mission head Terhi Hakala, expressing disappointment at the end of the mission, told reporters after talks in the Georgian foreign ministry "There is a lot of work to be done here."
Russia's most senior state investigator, Alexander Bastrykin, told a news conference in Moscow his staff had documented 162 civilian deaths in South Ossetia during the fighting, though there were likely to be more.
That figure contrasts with the 2,000 civilian deaths that Russian officials talked about at the time of the fighting.