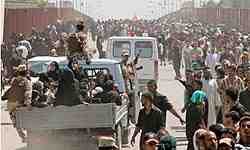 TEHRAN (FNA)- At least 40 people, 16 of them Iranian pilgrims, were killed and 72 were wounded Sunday in a suicide bombing in Baghdad at the doorstep of one of Iraq's holiest Shiite shrines, government and hospital officials said.
The attacker appeared to have singled out a procession of Iranian pilgrims visiting the shrine of Imams Musa al-Kazzem and Mohammed al-Jawad in Baghdad's northern Kazzemiya district, witnesses and security officers said.
Earlier in the day, a bus carrying Iranian pilgrims to Kazzemiya was hit by a blast from a roadside bomb in Diyala province northeast of Baghdad, the Iraqi police said. Five people were wounded.
The terrorist members of the anti-Iran Mojahedin-e Khalq Organization are deployed in a camp in Diyala, and some observers believe that the attack might have been designed or backed up by the MKO terrorists.
Iraq has vowed to expel MKO members from its soil in the near future.
In the war in Iraq, Shiites have often been attacked on religious holidays. The holiest month of the Shiite calendar, Moharram, began last Monday, and many celebrated, heartened by the steep declines in violence in the past year and the assurances from the government that its soldiers were ready to take over control of security from US forces.
Sunday's bomb exploded at 11:30 a.m., when a man in a long, black winter coat stepped into a crowd of Iranian pilgrims about to enter the golden-domed shrine, said an undercover agent with the Interior Ministry who was at the scene; the agent spoke on condition of anonymity because he was not authorized to speak to the news media.
The man in the coat "was stuffed with explosives," the agent said.
Brig. Gen. Qassim Atta, an Iraqi military spokesman, was initially quoted by Iraq's state-owned media as saying the attacker was female but then said the attacker was male.
The suicide bomber struck just yards from Bab al-Qibla, one of the four vaulted wooden doors leading into the courtyard of the shrine, where the two imams, who are among Shiite Islam's most revered figures, are buried.
Mahdi Khosroabadi, 50, a pilgrim from Tehran, said bodies and limbs were strewed everywhere near the explosion.
He said he had seen a young girl in tears standing over the bodies of her whole family.
"Why do they tell us to come, why?" he said. "Security is still very bad."
In a turbulent province northeast of Baghdad, the US military handed over control Sunday to the Sons of Iraq, a predominantly Sunni group of former insurgents and tribesmen.
Sunni Islamist extremists such as al-Qaeda have repeatedly targeted the annual event following the 2003 invasion.