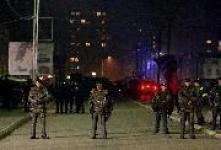 Two Kosovo Serbs were attacked by a group of Albanians in Mitrovica, local police say, the latest skirmish in the tense divided town.
The town of Mitrovica has been a flashpoint since Kosovo's Albanian majority declared independence from Serbia in February. Some 20,000 Serbs live in the north of the town but refuse to deal with Kosovo institutions and see Belgrade as their capital.
In the last two weeks tensions have spilled over to violent protests that have injured several people and caused extensive property damage. The latest bout of unrest erupted after a Serb teenager was hurt by two knife-wielding Albanian teenagers on Dec. 30, prompting hundreds of Serb protesters to burn down or trash Albanian shops and cars.
Local police chief Predrag Vasović told Serbian state news agency Tanjug that according to the victims' testimony, the two Serbs, men in their early 30s, were attacked by a group of some 20 Albanians after their car broke down on the street late on Sunday evening.
The police chief blamed the NATO-led peacekeeping force KFOR for failing to react promptly.
KFOR troops and the European Union police (EULEX) have stepped up their presence in the town, with heavily armed soldiers and armoured vehicles patrolling the streets.
"Unfortunately, the KFOR reaction was lacking," Vasovic said, citing witness statements that KFOR soldiers "were nearby, but did not react."
There are some 120,000 Serbs in Kosovo among 2 million Albanians. Kosovo seceded nine years after a NATO bombing campaign expelled Serb forces accused of mass killings and expulsions of ethnic Albanian civilians while fighting separatist guerillas.
A statement from the office of Kosovo Prime Minister Hashim Thaci commenting on the incidents of the previous week said he strongly condemns "the violent acts which are against the vision of Kosovo's government for a secure and calm environment." Thaci said the state would help finance the reconstruction of the destroyed businesses with a grant totaling 100,000 euros.