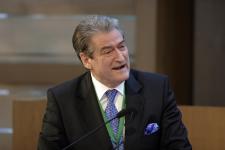 Albania will officially apply for EU candidate status in the coming months, Prime Minister Sali Berisha said on Thursday.
The announcement came during a meeting with the Czech Ambassador in Tirana on the occasion of the Czech Republic assuming the six-month rotating presidency of the EU in January.
Stressing his government's reform efforts, Berisha told ambassador Marketa Fialkova that Tirana intended to sumit an official bid very soon.
Experts doubt that it is the right time because Albania has entered electionl season, a process which is sapping the administration's energy.
"I don't think that this is the right time to apply for EU candidate status," said Ditmir Bushati, head of the European Movement, a Tirana based NGO that monitors the Albania's EU accession process. "Albania has to answer a lot of questions to the EU for such status, and we are just ahead of parliamentary elections."
After its intent to apply for candidate status is presented, Albania would have to reply to an EU questionnaire. For neighboring Macedonia, the questionnaire was 15,000 pages long.
"The application is being done for electoral reasons, so when election time comes, the government can say that we applied, however long the process of attaining such status will be," Bushati added.
In the best-case scenario, like in Croatia's case, the process to clinch candidate status would take one year. For Macedonia it took 21 months, while for Albania, Bushati believes it will take even longer.