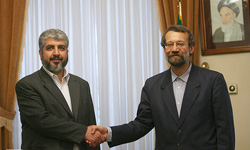 TEHRAN (FNA)- Iranian Parliament Speaker Ali Larijani conferred with head of Hamas political bureau Khaled Meshaal in Damascus on Wednesday over the latest conditions in the Gaza Strip.
The meeting was also attended by several high level officials from Hamas at the Iranian embassy in the Syrian capital.
The meeting stretched into the early hours of Thursday, with no details emerging from the deliberations. Larijani earlier met leaders of Islamic Jihad, a smaller Palestinian group.
Syria hosts members of Hamas's exiled leadership, including Meshaal.
Larijani also met President Bashar al-Assad on Wednesday to discuss the "dangerous situation" in Gaza, the official Syrian news agency said. He is the second Iranian official to visit Syria since Israel's ground invasion of Gaza began on Saturday.
Secretary of Iran's Supreme National Security Council (SNSC) Saeed Jalili met with Syrian leaders as well as Hamas and Islamic Jihad officials in Damascus earlier this week, before Egypt announced a plan for a truce in Gaza brokered by France.
Hamas said it was looking at the plan, which tackles Hamas's demand for an end to Israel's blockade on Gaza, a major reason cited by Hamas behind its decision not to renew a truce with Israel last month.
Israel waged war on the Gaza Strip on December 27 and began a "long-term" ground offensive on the Palestinian territory last Saturday.
Thus far, the Israeli aggression has killed 763 Palestinians and injured thousands of others – a large number of the casualties are civilians.