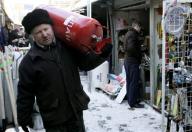 MOSCOW/KIEV (Reuters) – The European Union will hold talks with Russia on Saturday to finalize a gas monitoring deal to allow the resumption of gas supplies to Europe via Ukraine, which have been cut off for days over a pricing row.
Czech Prime Minister Mirek Topolanek, representing the EU presidency, will meet Russian Prime Minister Vladimir Putin at 4 a.m. ET.
On Friday, Topolanek, who met Ukrainian officials, said he had an agreement with Ukraine and a "similar pledge" from Russia to allow experts from either side to work in the other country under a process to monitor gas flows from Russia to Europe.
The dispute between Moscow and Kiev has led to the worst ever disruption of Russian gas supplies to Europe, has closed some factories in eastern Europe and increased fears in the EU over future reliance on Russian gas deliveries.
The row has increased political tensions between Moscow and Kiev with Russia accusing Ukraine of corruption and stealing gas and Kiev saying Russia is seeking to humiliate Ukraine. Both deny the charges.
The presence of monitoring missions along the transit routes for Russian gas will reassure Moscow that the gas it pumps across Ukraine is not being siphoned off.
Moscow said it shut off gas through its ex-Soviet neighbor earlier this week because of the siphoning.
SPECIALISTS
Ukrainian Prime Minister Yulia Tymoshenko said on Friday Ukraine had agreed to proposals by Moscow to put specialists from Russian and European gas companies on the list of monitors in addition to specialists from Ukraine and the European Union.
But Russia's gas export monopoly Gazprom said it had no information that Ukraine had signed the deal and called on President Viktor Yushchenko to do so.
"It means that a decision (or a lack of decision) by the president of Ukraine is again hindering our gas supplies … As long as the protocol is not signed by all sides, those specialists cannot have the status of observers," Gazprom said in a statement.
Even if the gas resumes, it is likely to be delivered only to Europe, not Ukraine, since Moscow and Kiev have yet to agree a price for the gas, subsidized since Soviet times. Russia has repeatedly said Ukraine must pay the market rate.
The EU gets a quarter of its gas supplies from Russia, 80 percent of which passes through Ukraine. So far, supplies to 18 countries have been disrupted by the dispute.
Kiev and its former Soviet master have clashed over Ukraine's efforts to join NATO, a move Moscow opposes and viewed with wariness by European members of the alliance.
Ukraine has been beset for months by political squabbling between Yushchenko and Tymoshenko, his former ally, notably over ties with Russia.
Eastern and central Europe have borne the brunt of the dispute, with many countries forced to seek gas from elsewhere or draw on their storage reserves.