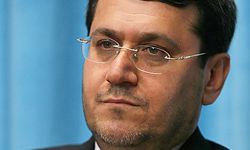 TEHRAN (FNA)- Global expectations of Egypt have been doubled because of its different geographical position and its shared borders with Gaza through Rafah border crossing, Iranian Foreign Ministry Spokesman Hassan Qashqavi said.
Egyptian government needs to comply with its historical and conscientious obligations over Gazans and take fundamental steps regarding the matter, he told reporters.
The history of Egyptian leaders including the former Egyptian President Jamal Abdul Naser, the founder of Ikhwanul Muslimin Group in Egypt Hassn al-Bana as well as the country's fights against Israel in 1973 have raised expectation of Egypt, Qashqavi noted according to the Iranian students news agency.
Over 770 Palestinians have been killed and some 3150 were wounded due to Israeli air and ground attacks over the impoverished area of Gaza. Tel Aviv has also seized the costal area since early October last year banning the entrance of basic supplies including food and medicine to the area.
Also Iran's Foreign Minister Manouchehr Mottaki in his letter to his Egyptian counterpart Ahmed Aboul Gheit has said Iran is ready to receive the injured Palestinians and has called for Egypt to found a field hospital near borders and dispatch a medical team to that area, Qashqavi said adding Iran is waiting for Egypt to reply.
The Foreign Ministry Spokesman then called for a collective, diplomatic and serious measure to confront Israeli barbarous crimes against Gazans.
Mottaki is holding consultations successively with senior officials of the world and Iranian President has dispatched envoys including the Secretary of Iran's Supreme National Security Council Saeed Jalili to different parts of the world to discuss Gaza issue.
As to one of Iranian officials' remarks to cut oil exports to sponsors of Israel, Qashqavi said any economic or political measure which could impede Israel's continuing of crimes is accepted by Iran if it is under the framework of international consultations.
Iran is ready to take steps for urgent termination of aggressions over Gaza Strip and lifting besiege over the area, he continued.
Members of Hamas and other Palestinian groups and even Christian Gazans are suffering from the catastrophes taking place in the city and the issue of Shiite, Sunni, Arab and Persian is no more discussed; he said adding Iran's view on Gaza subject is not a commercial or temporary one, but "we have begun our fundamental support for Palestinians thirty years ago."
Members of Hamas and Palestinian Islamic groups are not merely some individuals, but they are part of Palestinians and it seems unfounded that Israel goes to war with Hamas through its tanks and guns.
Palestinian resistance will defeat the resolution of Zionists, he continued.
Iran is ready to cooperate with all Palestinian groups to defend their irrefutable rights and end termination of their lands, he said.
As to Iran's presence in peace process, he said "we basically do not recognize Zionist regime and the history of its 60-year crimes and breach of ceasefires are crystal clear."
Elsewhere Qashqavi pointed to Iraqi Prime Minister's recent trip to Iran and said his visit was aimed at holding Iran-Iraq supreme commission.
Providing consular facilities, issuing visas and calling for removing Gaza seizer were among topics discussed during Nouri al-Maliki's trip to Iran and the tour was a step forward for deepening bilateral ties, he noted.
He then pointed to Iraq-US security pact and said putting the pact into referendum revealed the tact of Iraqi officials who seek the nation's will on the issue.