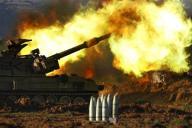 GAZA (Reuters) – Israeli aircraft, tanks and ships pounded the Gaza Strip for a 15th day Saturday and militants from Hamas fired rockets back at Israel, both sides defying international efforts to put a stop to the conflict.
In the latest exchange of fire, eight Palestinians were killed by an Israeli tank shell in Jabalya, a refugee camp in the north of the Gaza Strip, medical officials said. All the dead were believed to be from the same family. A Hamas-fired rocket injured two Israelis in Ashkelon, north of Gaza.
Concerned about the deepening impact of the war on Gaza's 1.5 million people, more than half of whom depend on U.N. food assistance, the United Nations said it was hoping to resume full aid distribution Saturday after receiving Israeli assurances that its staff would not be harmed.
Despite a U.N. Security Council resolution calling for a ceasefire and Egyptian-European mediation efforts, Israel appeared set on pressing on with its offensive, designed to stop Hamas rocket fire. Hamas fired more rockets.
"Israel is determined to deal with this matter until its positive conclusion, so that there is no terrorism in Gaza against Israel," Rafi Eitan, a member of Israel's security cabinet, told Israel Radio.
Continuing a policy of recent days, however, Israel was due to cease operations between 6 a.m. and 9 a.m. ET Saturday to allow humanitarian aid to be distributed throughout Gaza.
Medical officials in the Gaza Strip said the Palestinian death toll had risen to 786, of whom more than a third were children, according to the Hamas-run Health Ministry.
Thirteen Israelis have been killed: 10 soldiers and three civilians hit by Hamas rocket fire.
The bombing of tunnels along the southern Gaza border with Egypt, used to smuggle arms and other goods into Gaza, knocked out electricity in the town of Rafah, residents said.
Hamas has fired around 40 rockets into Israel in the past 24 hours, some of them hitting Ashkelon, a town about 20 km (12 miles) north of the Gaza Strip.
CEASEFIRE EFFORTS
In an attempt to breath life into an Egyptian-led mediation effort, Palestinian President Mahmoud Abbas, whose Fatah party is a political foe of Hamas, was due to fly to Cairo for talks with Egyptian President Hosni Mubarak.
However, diplomats believe the Egyptian initiative, also sponsored by French President Nicolas Sarkozy, is in trouble, even if Israel has said talks over the proposal will continue and Hamas has sent representatives to Cairo.
"There is a growing sense that the Egyptian-French plan is not going to work," a senior European diplomat told Reuters.
European and Israeli diplomats said Egypt was objecting to proposals that foreign troops and technicians be stationed on its 15-km (9-mile) border with Gaza to prevent arms smuggling.
Instead, diplomats said, Egypt was ready to accept technical assistance for its own forces on the border. Israel says the Egyptians have failed in the past to prevent Hamas building up an arsenal of hundreds of Soviet-designed Katyusha missiles.
Likewise, the U.N. Security Council resolution calling for an "immediate and durable" ceasefire appears to have found little traction with either Israel or Hamas.
Israeli Prime Minister Ehud Olmert dismissed it as "unworkable" and Hamas officials in the Gaza Strip said they objected to it because they had not been consulted.
In a telephone call to Olmert, U.N. Secretary-General Ban Ki-moon "expressed disappointment that the violence is continuing on the ground in disregard" of the Security Council resolution, U.N. spokeswoman Michele Montas said.
U.N. officials have no direct contacts with Hamas but Montas said the same message would be conveyed to the group indirectly.
WHITE HOUSE BLAMES HAMAS
The United States, which abstained in the U.N. vote, offered further public support for Israel's military goals.
"This situation will not improve until Hamas stops lobbing rockets into Israel," White House spokesman Scott Stanzel said.
He said President George W. Bush had voiced his concern to Olmert about the humanitarian situation and the loss of civilian lives during the Israeli assault on the Gaza Strip.
With the Palestinian civilian death toll already in the hundreds, Israeli actions have drawn denunciations from the Red Cross, U.N. agencies and Arab and European governments. U.N. sources said Israel was also stepping up operations in the West Bank, detaining Palestinian suspects in rising numbers.
Hamas wants any ceasefire deal to include the ending of Israel's crippling economic blockade of the Gaza Strip and the withdrawal of all Israeli forces from the territory, from which Israel withdrew in 2005 after a 38-year occupation.
Israel's key demands are for a complete halt to Hamas rocket fire and for international guarantees to stop the group rearming via smuggling tunnels under the border with Egypt.