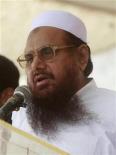 LAHORE, Pakistan (Reuters) – Pakistani authorities have extended for 60 days the detention of the founder of the Islamist militant group India has blamed for November's attacks in Mumbai, a government spokesman said on Sunday.
Hafiz Saeed was put under house arrest in the city of Lahore in early December after a U.N. Security Council committee added him and an Islamist charity he heads to a list of people and organizations linked to al Qaeda or the Taliban.
Saeed founded the Lashkar-e-Taiba (LeT) militant group in 1990 and for years it battled Indian forces in the disputed Kashmir region. The group was banned in Pakistan in 2002.
He is also head of the Jamaat-ud-Dawa charity, which the United Nations said last month was a front for the LeT.
Pervaiz Rasheed, a spokesman for the provincial government in Punjab, said Saeed and five senior charity members had their house arrest extended for 60 days. Fifty-five activists had been put on a watch list.
"We extended it because we have nothing against them to produce in court. We're acting on the U.N. resolution. After 60 days, we'll review it," Rasheed said.
Ties between nuclear-armed Pakistan and India, which have fought three wars since 1947, deteriorated sharply after coordinated attacks by 10 gunmen on the Indian city of Mumbai in late November that killed 179 people.
Pakistan has denied involvement by state agencies and has said it is investigating Pakistani links to the attack.
India has demanded Pakistan dismantle the "infrastructure of terrorism" and has repeatedly said "all options were open" in responding.
That has raised fears of Indian military strikes on militant targets in Pakistan, which could spark war.
Rasheed said the Punjab government had sealed about 70 Jamaat-ud-Dawa offices and taken over 30 of its schools and dispensaries.
In the days after the Mumbai attacks, Pakistan captured two of the suspected planners, Zaki-ur-Rehman Lakhvi and Zarar Shah, in a crackdown against the LeT in Pakistani-controlled Kashmir.
The Wall Street Journal said last month Shah had confessed to his involvement in the attack.
The government has said its investigation was still going on although it confirmed last week the lone surviving gunman was Pakistani.