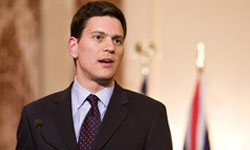 TEHRAN (FNA)- British Foreign Secretary David Miliband in an unprecedented move wrote a letter to British Muslim leaders to placate criticism about the UK's policy in refusing to condemn Israel's massacre of nearly 900 Palestinians in Gaza.
"I thought it would be helpful to be in touch about the extremely worrying situation in the Middle East. I know this will be of enormous concern to the Muslim community in Britain, as it is to the British government," Miliband said.
"The Prime Minister and I have been clear from the first day of this crisis in arguing for an immediate, durable and fully respected ceasefire," he said in a copy of a letter to Muslim News editor Ahmed Versi, obtained by the Islamic republic news agency.
Similar letters trying to justify what has been seen as a pro-Israel stance to the latest slaughter are understood to have been sent to other Muslim leaders, including Imam Jalil Sajid, chair of the Muslim Council for Religious and Racial Harmony.
In his letter, Miliband promoted Britain's role in helping to draw up UN Security Council Resolution 1860 even though it equates the need for action on arms smuggled to Gaza with a call for an immediate, durable and fully respected ceasefire.
The resolution also calls for unimpeded distribution of humanitarian supplies to Gaza but stops short of demanding the lifting of Israel's 18 month siege that has left the 1.5 million Palestinian inhabitants destitute and deprived of even medicines.
The letter comes after a succession of Muslim organizations have written to Prime Minister Gordon Brown warning of the anger over the failure to act against Israel and the repercussions it could have for national security in the UK.
Those voicing alarm about the government's perceived double standards on terrorism included the Young Muslims Advisory Group (YMAG), which was launched by the government last October.
"We are in grave danger of sending a message to youth today that the mass murder of civilians can be justified if the right grievances are cited," YMAG warned.
"In the current climate there is a real danger young people who witness the impotence of institutions that are supposed to be protecting innocent life will turn to other organizations in an effort to make their voices heard and the violence stop," it said.
But in response to the Israeli killing of hundreds of Palestinian civilians, including one third children, Miliband could only muster that his government was "shocked by what we have witnessed over the past fortnight in Gaza."
"The British Government has a responsibility to keep alive the vision of a peaceful Middle East. Only a fair and lasting settlement offers hope of security and justice for Palestinians and Israelis alike," he told Muslim leaders.