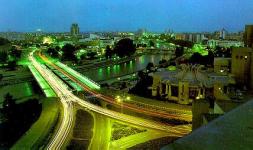 Skopje has officially protested at the European Commission in Brussels over comments by the Greek Culture Minister that Macedonia will soon dissolve and be carved up between a 'Greater Albania' and a 'Greater Bulgaria'.
Macedonia's mission in Brussels condemned the statements by Antonis Samaras as "counterproductive" for bilateral relations, and expressed concern that no one in Athens had denounced them yet, local A1 TV said.
Skopje and Athens have been locked in a dispute over Macedonia's name for 18 years. In April last year Greece blocked Macedonia's NATO invitation arguing that use of the name implies territorial claims over its own northern province that is also called Macedonia.
On Saturday the newly-appointed minister said in an interview for Greek national television ERT that the end of the dispute would come naturally as Macedonia — which Greeks refer to as simply 'Skopje' – dissolves and is swallowed up by its neighbors.
"Time is on our side", Samaras said. "I believe that Skopje will not survive as a single country and that Greece has nothing to fear from the creation of 'Great Albania' and 'Great Bulgaria'."
Samaras has long been a hardliner on the "Macedonian Question" and other Greek national issues, and was publicly behind the idea of an "Orthodox axis" in the Balkans during the Yugoslav wars of the 1990s.
Skopje warned that such statements could additionally get in the way of the next round of UN-sponsored talks, scheduled for February 11.
This is the fourth time Macedonia has launched an official protest against Greece in recent months. It has protested over Athens banning its national air carrier MAT from flying over Greece, over alleged police cruelty against ethnic Macedonians living in Greece and over the arrest of Macedonian journalists who tried to report on the event.
It has attracted criticism in turn over its decision to rename its main highway "Alexander of Macedon", for the ancient conqueror whose origin is part of a dispute that has come to encompass history, geography and genetics.