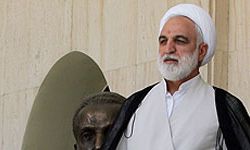 TEHRAN (FNA)- A senior Iranian official on Wednesday voiced dismay at launching British Broadcasting Corporation (BBC) Persian TV service.
"Launching BBC Persian service TV is detrimental to Iranian national security" Intelligence Minister Gholam Hossein Mohseni Ejeie as said.
He warned that Tehran would take "necessary measures" to thwart the plan.
Reportedly, BBC Persian TV will broadcast for eight hours a day, seven days a week, in Farsi language in peak viewing time of the countries of Iran and Afghanistan from London on January 14.
Since 1940, the BBC has been broadcasting in Farsi on the radio.
Managers of the radio station claim that it has an audience of some 10 million people every week and they hope the television service to reach the same figure within three years.