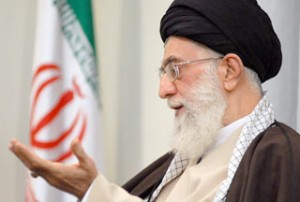 The Leader of the Islamic Revolution says the resistance of Hamas fighters in Gaza is taking away the Israeli army's self-confidence. In a message to Hamas leader Ismail Haniya on Friday, Ayatollah Seyyed Ali Khamenei said Israeli troops have been pushed to the outskirts of Gaza City due to the bravery of resistance fighters in the Strip.
Earlier in the day, Israeli troops retreated from the city after facing strong resistance from Palestinian fighters for two consecutive days.
"The (Israeli) army that occupied massive portions of three Arab states in a six-day war is now humiliated by the resistance of your fighters," said the Leader in his letter to the Hamas chief.
Ayatollah Khamenei added that Gazan resistance had brought shame to the supporters of the Israeli regime in the United States, in the United Nations, and among Arab leaders.
The Leader added that Iran would continue its support for the Palestinian people, who are suffering in the Israeli aggression against Gaza.
Iran recently dispatched a ship carrying 2,000 tons of medical and food supplies for the people of the impoverished coastal sliver.
The ship, however, was intercepted by the Israeli navy. It now awaits permission to offload the humanitarian aid in a Gaza port.
Tel Aviv launched Operation Cast Lead on December 27 to put an end to rocket attacks against southern Israeli towns. At least 1,133 Palestinians have died during the offensive, while some 5,150 others have been wounded.
Hamas, the democratically-elected ruler of the coastal sliver, demands a cessation of an 18-month Israeli blockade on the Gaza Strip before its fighters suspend rocket attacks.
The huge number of civilian casualties in the densely-populated coastal strip has sparked widespread outrage around the globe.
A fierce controversy has also broken out over the alleged use of white phosphorus, also known by the military as WP or Willie Pete, by the Israeli army in Gaza
The International Criminal Court prosecutor, meanwhile, said Wednesday that it lacks jurisdiction to investigate war crimes allegations against Israel.
MD/HGH