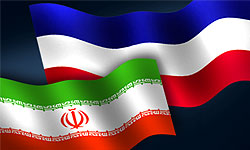 TEHRAN (FNA)- Iranian and Serbian officials met in Belgrade earlier this week in a bid to improve ties between the two countries' parliaments.
At the meeting between Serbian Parliament Speaker Slavica Djukic-Dejanovic and Iranian Ambassador to Serbia Seyed Morteza Mir Heydari, the two sides discussed promotion of bilateral parliamentary cooperation.
They also stressed good cooperation at international forums, particularly within the United Nations.
According to a statement by the Serbian parliament, the Iranian envoy, who is at the end of his term in Serbia, also laid much emphasis on the importance of activities of the Non-Aligned Movement (NAM), especially with regard to the current crisis in the Middle East, and called for Serbia's engagement in the issue.
Djukic-Dejanovic, for her part, briefed the outgoing diplomat over her country's planned participation at the forthcoming regional conference of parliament speakers set to deal with the current crisis in the Gaza Strip.
She also informed Heydari that "a group of friendship with Iran" has been formed in the Serbian parliament, the statement carried by Tanjug news agency said.