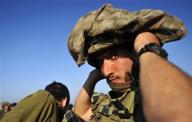 JERUSALEM (Reuters) – Israel said it completed a troop pullout from the Hamas-ruled Gaza Strip on Wednesday, starting its relationship with U.S. President Barack Obama by quitting Palestinian land devastated by its 22-day offensive.
"As of this morning, the last of the Israel Defense Forces soldiers have left the Gaza Strip and the forces have deployed outside of Gaza and are prepared for any occurrences," an army spokesman said, about 13 hours after Obama's inauguration.
Israel had withdrawn most of its forces before Obama was sworn in on Tuesday, in a move analysts saw as an attempt to avoid any early tensions with his administration that could cloud the start of a new era in a key alliance.
Obama's predecessor, George W. Bush, endorsed Israel's right to defend itself against rocket fire by the Gaza Strip's ruling Hamas Islamists. Obama, before taking office, declined to comment in detail on the Gaza crisis.
Israel's attacks in an offensive it launched on December 27 killed some 1,300 Palestinians and made thousands homeless. Gaza medical officials said the Palestinian dead included at least 700 civilians. Israel says hundreds of militants died.
Ten Israeli soldiers and three civilians, hit by cross-border rocket fire, were killed in the conflict.
The United Nations, whose secretary-general, Ban Ki-moon, toured Gaza's rubble-strewn streets on Tuesday and described the destruction he witnessed as heartbreaking, has estimated some $330 million is needed for urgent aid in the coastal enclave.
Reconstruction, if it can be launched in light of the frost between Hamas and the West, may cost close to $2 billion, according to Palestinian and international estimates.
Although aid agencies said they planned a massive inflow of supplies through Israeli crossings, help will be complicated by the Western boycott of Hamas as a "terrorist" organization and an Israeli blockade on many items, including building materials, that can be used to make weapons.
"NEW WAY FORWARD"
Hamas, announcing a ceasefire on Sunday — hours after an Israeli-declared truce went into effect — had demanded Israeli troops quit the territory within a week.
The group held what it termed victory rallies in the Gaza Strip on Tuesday, but many Palestinians have returned to their homes only to find they had been reduced to piles of rubble.
"We've won the war. But we've lost everything," said Nabil Sultan, commenting on Hamas's V for Victory signs as he surveyed the wreckage of his home on the outskirts of the city of Gaza. "This was my house," he shrugged, by a pile of smashed concrete.
In his inaugural speech, Obama promised to reach out to Muslims worldwide and "seek a new way forward, based on mutual interest and mutual respect."
Sources familiar with the matter said in Washington that Obama would move quickly to name a Middle East envoy, possibly former Sen. George Mitchell, who had tried on behalf of the Clinton and Bush administrations to bring about an end to Israeli-Palestinian violence.
In a 2001 report, Mitchell called for a freeze in the construction of Jewish settlements on occupied Palestinian land and for the Palestinians, who were waging an uprising, to stop attacks on Israelis.
Hailing Obama's election as "a change of historic significance," Israeli President Shimon Peres said: "What can be expected of the new president is a winning team to really rout violence from the Middle East and move the peace process forward."
Bush's efforts, late in his second term, to reach at least a framework peace deal in renewed talks between Israel and President Mahmoud Abbas's Palestinian Authority, fell short of any agreement.
Immediate diplomatic steps were likely to focus on turning the Gaza truce into a long-term ceasefire, and more comprehensive Israeli-Palestinian peace moves would have to await the outcome of Israel's February 19 parliamentary election.
Hamas has said it was continuing talks in Cairo over Egypt's proposal for a deal that would guarantee the reopening of Gaza border crossings, including a terminal on the Egyptian frontier that had served as the territory's main exit to the outside world.
Israeli Prime Minister Ehud Olmert has declared his government's mission accomplished — noting a flurry of diplomatic efforts by the United States, Egypt and European countries to prevent Hamas rearming.
That would mean as yet unspecified measures to stop Hamas smuggling weapons across the Egypt-Gaza frontier, a sensitive matter given Cairo's past efforts to play down its scope.
Iran, accused by Israel of supplying arms to Hamas militants, said on Wednesday that resistance groups around the world like those in the Gaza Strip had the right to have access to weapons to fight against "colonialists."
"A government or a people who would like to defend themselves, it is very natural they will do their utmost to get weapons from whatever place possible," Foreign Minister Manouchehr Mottaki said in a speech on the conflict in Gaza.