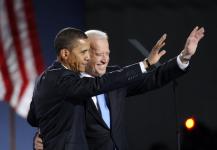 United States policy in the Balkans will not change with Barack Obama as US president, and Serbia cannot hope for any shift in Washington's stance over Kosovo, a veteran Serbian diplomat said.
Zivorad Kovacevic, a former Yugoslav ambassador to the US and current head of the European Movement NGO told Serbia's Novosti daily that US policy in the Western Balkans would stay in line with current positions.
"The US administration will be less arrogant and ready to listen, but Obama's policy is the same as Mccain's in context of Serbia and Western Balkans" Kovacevic said, adding that Washington has no dilemmas on Kosovo's status.
"The story is over for Obama," said Kovacevic. "The new administration believes there is no need to open new talks, neither international nor between Serbia and Kosovo. Obama has called for dialogue only in Kosovo between Serbian communities and the authorities in Pristina, and asked the Serbian government to show understanding for the new reality. Kosovo and Serbia are not among the new administration's 20 priorities."
Kovacevic added that Obama supported Serbia's path towards the European Union, but would also insist on the arrest of Mladic.
Above all, he said, the US expected Belgrade to not start trouble.
"Washington will not mind Serbia sticking to its position about not recognising Kosovo's independence, but it will expect it to contact Kosovo's government specifically on matters regarding the Serbian community and cultural and religious artefacts," he added.