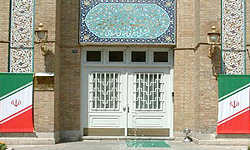 TEHRAN (FNA)- Iranian Foreign Ministry summoned Czech charge d'affaire in Tehran Jan Kouril, whose country holds the rotating presidency of the European Union, to criticize EU's double-standard policy towards human rights violations in Gaza.
The Ministry also criticized European Union's fecklessness that has encouraged Israel to continue brutalities against Palestinian people.
An official at the Foreign Ministry told the Czech diplomat that the massacre of children and women in Gaza and the blockade of the city are cases of Israel's human rights violations.
About 1,340 Gazans were killed and over 5,500 wounded, including 1,855 children and 795 women during Israeli incursion.
The Iranian official also expressed concern over the EU's silence over detention of reporters of international media, saying, "The European Union did not support resolution passed by the UN Human Rights Council which will lead to more human rights violation by the Zionist regime (Israel)."
On January 12, the 47 member UN Human Rights Council passed a resolution condemning Israel for committing "grave" human rights violations against the Palestinians in the Gaza Strip and called for an immediate dispatch of an international fact-finding mission to investigate the case.