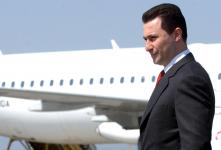 Macedonian Prime Minister Nikola Gruevski sent his congratulations to newly-inaugurated United States President Barack Obama, and thanked outgoing president George W. Bush for his support.
In a letter to Obama, Gruevski stressed the importance Skopje places to its strategic partnership with Washington. He said he hopes the US would continue supporting Macedonia's NATO membership, that was blocked by Greece last year.
"Macedonia is grateful for the US support, encouragement and sincere friendship. We will continue to be beside you, working on overcoming the regional and global problems", Grievski wrote to Obama.
He is convinced that "the US will continue supporting Macedonia to take its well-deserved place in NATO as soon as possible".
Athens and Skopje have been locked in a diplomatic struggle over Macedonia's name since the country broke away from socialist Yugoslavia in 1991. Athens argues that the use of the name Macedonia implies territorial claims towards a Greek province of the same name, and accuses its northern neighbour of usurping its ancient heritage.
In his letter to Bush, who in his second term in office recognised Macedonia under its chosen name, Gruevski says Macedonians "deeply appreciate that you recognized our dignity."
Local analysts fear that the Obama administration will either be partial to the Greeks or just not too interested in pushing for a solution through United Nations-mediated talks. Both sides are locked in their respective positions and unlikely to budge for fear of upsetting their domestic publics.
A fresh round of talks is set for next month, but most observers expect it to be merely a formality.