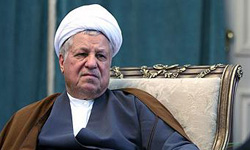 TEHRAN (FNA)- Chairman of Iran's Expediency Council Akbar Hashemi Rafsanjani, in a meeting with Kazakh Ambassador to Tehran Yerik Utembayev today, stressed the need for expansion of bilateral relations.
"Due to rich reserves and good potentialities, the two countries could widely cooperate in development and growth of one another," Rafsanjani said.
Calling for promotion of partnership in the energy sector, he said Iran has a particular view about cooperation with Central Asia and Caucasus countries, the Iranian students news agency reported.
Rafsanjani also noted the west economic crisis, and assured that the two nations' interests will be guaranteed through expansion of trade ties.
Yerik Utembayev, for his part, called cooperation between Tehran and Astana on technical, industrial and trading fields "satisfactory", and stated that Kazakhstan is primed to launch new mutual cooperation on field of technology.
Earlier, a conference on the prospects of Iran-Kazakhstan cooperation in exporting engineering and technical services was held in Tehran on November 12.
Upon the results of the conference, the two sides decided to create an Iranian-Kazakh business council of industrial-innovative leaders to boost export of Iranian and Kazakh engineering-technical services.