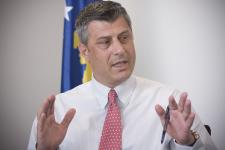 Kosovo is pushing ahead with decentralisation as envisaged by the Ahtisaari plan, but without the support of citizens across the ethnic spectrum the integration of all communities will remain a challenge, said Kosovo Prime Minister Hashim Thaci.
Decentralization, a byword for allowing Kosovo's minority Serbs to run their affairs separately from the Albanian majority, is one of the most debated issues in the newly independent state.
Sticking to the 'supervised independence' plan drafted by United Nations envoy Martti Ahtisaari, Kosovo will set up five new mainly-Serb municipalities, including the extension of Novo Berdo and north Mitrovica. 
Pristina hopes that with more say in their local government, the Serbs will come to accept Kosovo's secession from Serbia last year and stop looking to Belgrade as their capital.
"We have implemented the legislation for minority rights, decentralization and cultural heritage", said Thaci adding that citizens' support is key in implement this project successfully.
He said the process should not merely be viewed as requirement stemming from Ahtisaari's Plan but as a practical necessity for the integration of all citizens in the new reality of Kosovo.