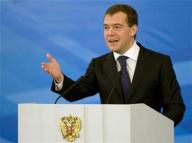 MOSCOW  – Russia has halted plans to deploy missiles near the Polish border, a Russian news agency quoted the military as saying on Wednesday, in what could be a sign Moscow is seeking better ties with the new U.S. president.
But there was no official confirmation and a Kremlin official said its position had always been that it would only deploy the missiles if Washington defied Moscow by implementing its plan for a missile shield in eastern Europe.
Moscow says the U.S. interceptor system, proposed by former President George W. Bush, threatens its security. President Barack Obama has not reversed Bush's decision but has said he will consider it on its merits.
The report that the Russian deployment has been suspended follows a phone conversation this week between Obama and Russian President Dmitry Medvedev. Analysts said such a move could open the way for dialogue on other disputes between their countries.
"The earlier Russian announcement that they were going to deploy missiles … and point them at NATO allies was unwelcome. If that decision has now been rescinded, it is a good step," said NATO spokesman James Appathurai.
The U.S. envoy to NATO said earlier that, if confirmed, the Russian move would be a "positive step."
Medvedev said a day after Obama's election victory he was ordering the deployment of Iskander missile systems to Russia's Western outpost of Kaliningrad, which borders the European Union and NATO members Poland and Lithuania.
"The implementation of these plans has been halted in connection with the fact that the new U.S. administration is not rushing through plans to deploy" elements of its missile defense shield in Europe, Interfax news agency quoted an unnamed official in the Russian military's general staff as saying.
Asked to comment on the report, a Kremlin official said: "Our position remains unchanged. We have said that we will not be the first to deploy Iskanders and we are monitoring signals from the United States."
The missile issue is likely to be on the agenda if, as expected, Medvedev and Obama meet on April 2 on the sidelines of a Group of 20 summit in London.
GOODWILL GESTURE
"It (the suspension of missile deployment) is a signal to Obama of Moscow's goodwill," Yevgeny Volk, an analyst in Moscow with the Heritage Foundation think tank, told Reuters.
But a senior Polish diplomatic source played down the significance of the Interfax report. "We are at the same place as we were yesterday … nothing substantial has changed," the source said.
Obama faces a series of other challenges in dealing with Russia, including bridging differences over NATO expansion and strategic arms control.
Some observers believe the Kremlin may be softening its assertive foreign policy because its confidence has been dented by an economic slowdown which has seen the ruble lose about a quarter of its value since July.
The Iskander has a range of up to 400 km (250 miles). It is usually equipped with a conventional warhead weighing about half a ton but can also carry a tactical nuclear warhead.
The administration of former U.S. President George W. Bush angered the Kremlin with its push to deploy interceptor missiles in Poland and establish a radar base in the Czech Republic.
It said the system was needed to protect against potential missile strikes by what it called "rogue states" — specifically Iran and North Korea.
Russia has argued that the proposed system is further evidence — along with the eastward expansion of NATO — of Western military influence creeping ever nearer its borders.
The row over the shield helped drive diplomatic ties between Moscow and Washington by the end of the Bush presidency to their coolest since the end of the Cold War.