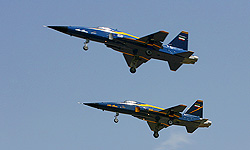 TEHRAN (FNA)- Iran has produced a number of the domestically-grown 'Saeqeh' (Thunderbolt) jets so far, Iranian Defense Minister Brigadier General Mostafa Mohammad Najjar said here on Sunday.
Speaking to FNA on the sidelines of "Innovation and Flourishing Festival", Najjar referred to the production of more Saeqeh jets by Iranian defense industries, and said, "Production of domestic jets is one of the important achievements of Iran that should be appreciated."
Recalling the launch of Saeqeh production line, he said that the latest achievements and equipment developed by Iranian experts have been employed in the new generation of the fighter jet.
Saeqeh, a joint product of the Iranian Air Force and the Defense Ministry, went on display as part of the Iranian air force's fleet during the military parades on the Army Day earlier this year.
Tehran launched an arms development program during the 1980-88 Iraqi imposed war on Iran, to compensate for a US weapons embargo. Since 1992, Iran has produced its own tanks, armored personnel carriers, missiles and fighter planes.
Yet, Iranian officials have always stressed that the country's military and arms programs serve defensive purposes and should not be perceived as a threat to any other country.