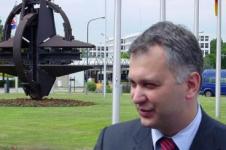 Serbia is worried that Kosovo's Security Forces (KSF) will not only be the starting point for a bigger armed force, but could participate in peacekeeping missions abroad before Serbia itself does, said Serbia's Defense Minister Dragan Sutanovac.
Last week Kosovo inaugurated a NATO-sponsored security force that is an army in all but name, taking a firm step to full statehood after its secession from Serbia last February. Belgrade slammed its formation as illegal and said it would protest to the United Nations.
Speaking to broadcaster B92, Sutanovac said Serbia's defence ministry was "following and analyzing the development and work of the KSF". Aside from the fact that the KSF could represent the nucleus of a bigger force, Sutanovac said there was other aspects of the KSF that Serbia objected to.
"I now see some new responsibilities which have been defined: those forces would take action if the police cannot," Sutanova said, "and I noticed something else that worries me—those forces would go into peacekeeping operations, which means that Kosovo is prepared to take a serious role in international politics, which could be a problem for us, considering that we still aren't doing that in the proper manner."
Sutanovac said that once it was known six months ago that NATO-led KFOR would help in the formation of the KSF, Serbia suspended relations between its own High Command and the KFOR commander. But it continued to cooperate on a technical level, he clarified, since KFOR is a factor in Kosovo's stability.