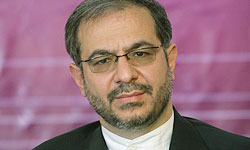 TEHRAN (FNA)- A senior Iranian diplomat underlined his country's continued activity in the field of civilian nuclear technology, and said that that United States did not have the courage to attack Iran's nuclear facilities.
Speaking to reporters at the Iranian Consulate in Karachi, Pakistan on Sunday, Director General of the Iranian Foreign Ministry's Political and International Studies Center Seyed Rasool Mousavi reiterated Iran's stance over its nuclear program, and said that Iran would not compromise on its nuclear program as it was completely civilian and had nothing to do with the strategic military purposes.
He further said that the dialogue with US would not be possible till her acceptance of the right of Iran's peaceful nuclear program.
The official said Tehran had complete control over its nuclear program, with local scientists now giving it its final touch.
Mousavi also commented that a military nuclear program couldn't ensure the security of a nation as everyone saw with the former USSR.
Elsewhere, he said that Israel should be held accountable for the massacre and bloodshed of innocent Palestinian people in the Gaza Strip.
Mousavi said it was a barbarous act and called it murder after Israel managed to kill 1,400 civilians in its 22-day ordeal including more than 400 children.
He said that the Palestinian struggle was the struggle for freedom of their land from the illegal occupation of Zionist regime, adding that Iran considered the freedom movement of Palestine as their own movement and vowed that his country continued their full support for the people of Palestine.
The Iranian foreign minister official said that Muslim countries needed to do more hailing the walkout by Turkey's Prime Minister Tayyib Erdogan from a talk show in Davos.
He said that Tehran considers terrorism as terrorism and disagrees that it erupts or evolves from certain parts of the world.
The diplomat said the law and order situation in the South Asian region was very sensitive, and asked all the feuding countries to sit down and talk to each other.
He said international forces were responsible for the insecurity in South Asia, adding that the region would be in turmoil when these forces leave.
On the occasion, Iranian Ambassador to Pakistan Mashallah Shakri said that Iran still could play a serious role in taking Pakistan out of its financial crisis.
He invited either President Asif Zardari or Prime Minister Yousuf Raza Gillani to Tehran for signing the final agreement.
Shakeri also called Iran's Balouchestan border as a symbol of peace, saying there were a few perpetrators who were trying to destabilize the region.
The envoy dismissed Pakistan's demand to reduce the price of Iranian gas supplies to Islamabad, reminding that Tehran was an international supplier and supplying gas to all its customers at the same rate.