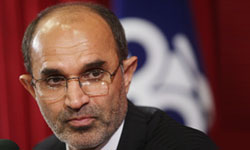 TEHRAN (FNA)- Iranian Oil Minister Gholam Hossein Nozari officially inaugurated three new units of the Lavan refinery on Sunday.
A dual-purpose jetty, a sour gas sweetening unit, and an LNG recovery, refining and storage unit are the three mentioned projects which came on stream, MNA agency reported.
Referring to the 10 billion barrels in-situ reserves of Lavan oil region, Nozari expressed hope that the output of the region's four oil fields (Salman, Lavan, Resalat, and Reshadat) rises to 250,000 barrels per day.
Two of Bandar Abbas refinery's units also officially restarted their production on Sunday.
Gholam-Hossein Nozari attended the ceremony, the Islamic republic news agency reported.
With these units coming on stream the refinery's refining capacity has risen to 320,000 bpd from the previous figure of 232,000 bpd.
The Bandar Abbas refinery's capacity boosting plan has been implemented at the cost of €17.74 million and 207.1 billion rials in 32 months