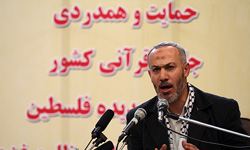 TEHRAN (FNA)- Muslims are set to support goals of Palestine and the holy Quds, said Palestinian Islamic Jihad Movement representative to Tehran Abu Sharif here on Monday.
Speaking in a ceremony on resistance victory at Tehran University, Abu Sharif said Islamic states will never permit Israel to attack and gain victory over an Islamic country which owns army, he said.
He also expressed optimism that Zionist occupying regime would be fully obliterated in the next war, the Iranian students news agency reported.
Leadership of the founder of Islamic Revolution Imam Khomeini, Supreme Leader's guidance, vigilance of Muslims and their strong will have seriously challenged enemies, he added.
Israel's wars with Gaza and Hezbollah made it clear for its occupying regime that a new resolution is emerging in the world inspired by Iran's Islamic Revolution, he noted.
Israel's 22-day war against Gaza launched on December 27th destructed a large number of houses, infrastructure and mosques and hurt the economy of the coastal area.
The three-week war left some 7000 Palestinians dead and injured.