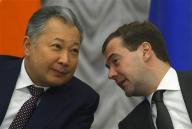 BISHKEK  – Kyrgyzstan began moves on Wednesday to close a U.S. military air base in the former Soviet republic which is vital for supplying U.S.-led troops fighting in Afghanistan.
The decision by a traditional Russian ally in Central Asia sends a tough signal and challenge to new U.S. President Barack Obama as he plans to send additional troops to Afghanistan.
The base is an important staging post for the U.S.-led military campaign against the Taliban and its role has been heightened as Washington seeks to reinforce supply routes that bypass Pakistan, where supply convoys face security risks.
Kyrgyz President Kurmanbek Bakiyev announced the base would be shut after securing Russian financial aid at talks on Tuesday in Moscow, which wants to reduce U.S. influence in regions it considers part of its traditional sphere of interest.
The Kyrgyz government submitted to parliament a decree on closing the Manas air base on Wednesday.
Adakhan Madumarov, secretary of the Kyrgyz Security Council, said in Moscow the U.S. military would be given 180 days to close its operations and leave once the two sides had exchanged formal diplomatic notes outlining the intention.
"The government has made its decision," he told reporters without saying when the exchange was likely to take place.
Parliament sources told Reuters it would soon start debating the decree and vote on the closure as soon as Friday. Parliamentary approval is seen as a formality since the chamber is dominated by the pro-presidential Ak Zhol party.
U.S. SUPPLY ROUTES
Closing Washington's only military outpost in Central Asia would pose a challenge for U.S. supply lines in the region, particularly after militants severed the main route into Afghanistan by blowing up a bridge in Pakistan this week.
U.S. officials said talks on the base were under way.
"We have been discussing the base with Kyrgyz authorities for some time now. We hope those discussions will continue to the point where we reach some mutually beneficial outcome," said Pentagon press secretary Geoff Morrell.
Many in Kyrgyzstan have criticized the presence of U.S. troops, prompting Washington to explore possibilities in other parts of Central Asia including Uzbekistan which evicted U.S. troops in 2005. Ties have eased since then.
Moscow, which operates its own airbase in Kyrgyzstan a few dozen kilometers away from Manas, has been irritated by Manas's existence and has put pressure on Kyrgyzstan to close it.
During his visit to Moscow, Bakiyev received a promise of more than $2 billion in credit and aid from Russia to combat an economic crisis — the equivalent of about half of Kyrgyzstan's gross domestic product.
BUSINESS AS USUAL
Outside the capital Bishkek, business appeared to go on as usual at the airbase, with no unexpected activity visible from behind a ring of barbed wire encircling the facility, now home to more than 1,000 U.S. military personnel.
At its main gate, three servicemen, all clad in uniforms and looking stern, refused to talk to reporters as they verified registration plates on vehicles entering the base.
Outside Manas, surrounded by swathes of empty, snow-blanketed land, a Kyrgyz sheep herder said he supported closing the base — partly because he wanted more grazing land.
"I support this move. We think this airbase only harms our nature," said Ulan, a bearded man of about 50.
Although many Kyrgyz have mixed feelings about the presence of U.S. troops, particularly after a U.S. airman shot dead a Kyrgyz man in a 2006 incident, Bakiyev critics said the nation could ill-afford to lose such an important ally as Washington.
"Kyrgyzstan can simply turn into a Russian vassal state," said Topchubek Turgunaliyev, a Kyrgyz opposition politician.
U.S. officials said while the Manas base was important, any decision to close it would not halt operations in Afghanistan.
"The United States and coalition forces will be able to continue operations in Afghanistan without the Manas base," U.S. State Department spokesman Gordon Duguid said in Washington.
The United States has 32,000 troops in Afghanistan and U.S. officials have said the planned build-up could grow to include as many as 30,000 troops over the next 12 to 18 months.