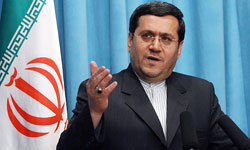 TEHRAN (FNA)- Iran and the US are not scheduled to attend bilateral talks on the sidelines of a security conference due to be held in Munich, Germany on Feb. 6-8, Iranian foreign ministry spokesman said on Wednesday.
"As some sources in the Iranian parliament have noted, no Iran-US negotiations have been scheduled for the Munich conference," Hassan Qashqavi told reporters in his weekly news conference here in Tehran.
Iranian Parliament Speaker Ali Larijani and US Vice President Joe Biden are due to attend the conference which is the 45th Munich Conference on Security Policy.
The United States and Iran broke diplomatic relations in April 1980, after Iranian students seized the United States' espionage center at its embassy in Tehran. The two countries have had tense relations ever since.
Despite the rules enshrined in the Non-Proliferation Treaty (NPT) entitling every member state, including Iran, to the right of uranium enrichment, Washington and its Western allies have imposed three rounds of UN Security Council sanctions on Iran for turning down West's calls to give up its right of uranium enrichment.
Qashqavi stressed that the sanctions have had no impact on Iran, and said, "The annual statistical figures show that our economic cooperation has increased even with the West."
"These sanctions have had no impact because of Iran's lucrative market and the attraction of cooperation with the state or private firms of the Islamic Republic of Iran," he added.
The Iranian spokesman declined to comment on media reports that Iran received some signals from the group 5+1 for unconditional talks.
"…Our way like Japan is based on 3 grounds, first, we are an IAEA (International Atomic Energy Agency) member and have accepted the NPT (Non Proliferation Treaty), second, we tend to be a committed member of the NPT and have had no diversion towards non peaceful activities and have said many times that non peaceful activities have no place in our defense doctrine and the third is that we have shown cooperation to resolve the concerns," he reiterated.
Saying Japan struggled 30 years to prove that its nuclear activities are peaceful, he criticized West's double-standard policies on Iran's peaceful nuclear program.