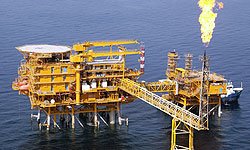 TEHRAN (FNA)- The Iranian oil ministry denied reports Wednesday of a fire on an oil platform in the Persian Gulf, but said that output had been cut while a gas leak on the facility is being tackled.
"There was no fire…gas is leaking from some of the pipes into the ocean, an oil ministry spokesman told Dow Jones Newswires by telephone.
"We are dealing with an environmental pollution problem. They are working to solve the problem but have not been successful yet."
Production capacity at the Abuzar platform has been partially halted due to the potential danger, the official said, adding that output had been reduced to around 40,000-50,000 barrels a day from 185,000 barrels a day.
Problems at the platform began "sometime on Sunday," according to the oil ministry official, who declined to be named.
Earlier Wednesday, the Iranian students news agency reported that oil workers were battling to fight a fire at an oil platform in the Abuzar oil field.
The report, which put the platform's production capacity at 50,000-60,000 barrels a day, cited the director of Fallat Gareh (Continental Plateau) oil company, Mohammad Bagher Soleimani, as saying that the latest incident occurred after the platform had experienced a number of problems in the past few days.
He said drilling experts at the site were currently injecting water, clay and cement into the platform to staunch the fire and that production at the platform has been closed down.
Soleimani told the Iranian students news agency that a number of steps have been taken to control the gas leak and fire, but have not been successful yet and further stages of the operations will take some time to show results.
The Abuzar platform has the highest oil production rate in Iran's Persian Gulf.